Founder, Brooke Watts - LPGA Class A, Level 3 Bio-Dynamic Instructor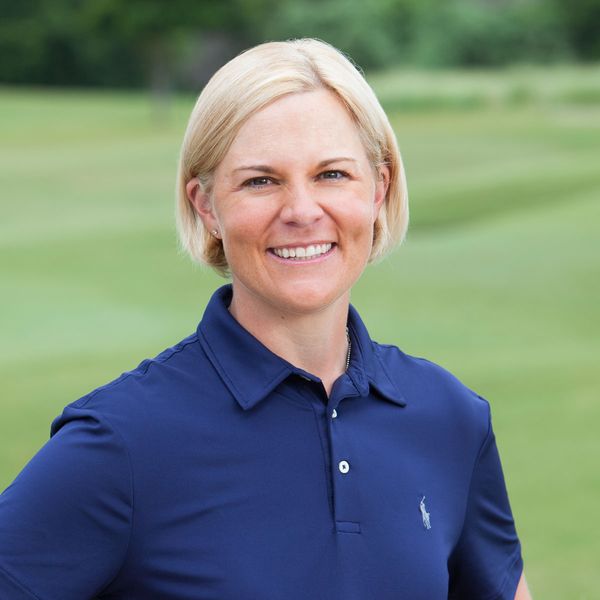 Passion
Golf has always been a part of my life as long as I can remember. From a very early age, I would ride in the cart and watch my parents play every weekend and many week nights. One day my dad came home with a cut down Ben Hogan 7 iron for me, and the love affair began.
I love everything about golf. I love being outside. I love seeing different golf courses. I love that a variety of ability levels can play together and have a great time. I love how you can see a person's true character on the golf course. I love the discipline and patience this great game requires to take your game to the next level.
Experience
I was a collegiate golfer at Southwestern University and was fortunate enough to compete in the 2000 National Championship. I was an Academic and Athletic All American, as well as a 3 time SCAC First Team All Conference.
I am a certified personal trainer with a specialty in Performance Enhancement and Corrective Exercise through the National Academy of Sports Medicine. I believe my students can hit the ball longer and straighter with the proper golf mechanics, but having strength and flexibility will improve your chances of getting the club and your body in the right position to produce a great shot.
Motivation
Teaching golf has always been a dream of mine. I love working with people and I hope to inspire them with my passion for golf. I believe in mastering the fundamentals (grip, posture, stance, and setup) to hit quality golf shots in a repeatable fashion. I want my students to reach their full potential in a fun and motivating environment. I teach my students how to swing the golf club with a bio-dynamic approach. I teach my students how to swing the club the way THEIR body is designed.
Approach
I believe in teaching my students how to swing the golf club with a bio-dynamic approach. Swing the club the way YOUR body is designed. Everyone is different, we are all built different...so we are all going to swing the club different. Studies have shown there are over 3 trillion ways you can swing a golf club. Using a bio-dynamic approach, I can customize a swing solution that is specific to every student. Every student gets a 12 step bio-dynamic assessment. This allows me to develop each students' swing efficiently and effectively. Give Watts Golf ATX and try and learn how to hit the golf ball like an athlete!
My Mentors
E.A. Tischler and Mike Adams
I owe so much to these gentlemen. They are the genius minds behind the Golf Bio-Dynamic approach. I am currently studying under Mike and E.A. with the Golf Bio-Dynamic curriculum. They are a huge influence in my teaching philosophy...every student is different, so teach your students how to swing the golf club the way their body is designed.
Jeff Smith
Jeff and I met at a Bio-Dynamic seminar in Chicago. We immediately became instant friends. Jeff has helped me grow as an instructor and as a person. I visit Jeff frequently at Otter Creek golf course in Columbus, IN. He is my mentor and role model.
Tina Bradley Mayers
Tina is the reason I have become a teaching golf professional. I have known Tina for over 15 years. I was her intern in college at the Barton Creek Golf Academy. Tina and I were joined at the hip from the moment we met. She has been an inspiration and friend over the last 15 years, and I look forward to the next 15 years. Thank you Tina for believing in me!